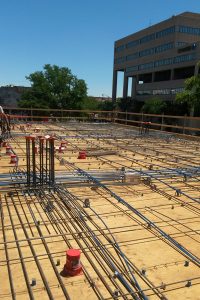 Martinez Associates can provide special inspection services to verify the compliance of structural elements to project plans and specifications as set forth by the International Building Code (IBC).  These services can be provided by our approved technicians who have undergone voluntary certification by the IBC.  Their responsibilities on a project include the following, within the restraints and under the guidelines as set forth by the IBC:
Observing the work assigned for conformance with approved design drawings and specifications.
Furnishing inspection reports to the building official, construction manager, and other designated person(s).
Bringing all discrepancies to the immediate attention of the contractor and, if uncorrected, to the attention of the construction manager and building official.
Submitting a final signed report stating whether the work requiring special inspection was, to the best of our knowledge, in conformance with approved plans, specifications, and the workmanship provision of the IBC.