Rosemark Assisted Living – Denver, CO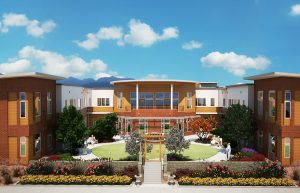 Martinez Associates was retained by Zing Development Strategies to perform construction material testing and special inspections.
This project consisted of a new two-story assisted-living facility with a basement in the Mayfair neighborhood of Denver.  The structure is supported on spread footings with slab-on-grade, masonry, and wood construction.
Services included shear wall inspections, Denver pipe inspections, field moisture-density testing by nuclear methods for the water line, sanitary sewer line, and storm sewer line trench backfill; site grading operations; foundation backfill; and subgrade preparations.  We tested the fresh concrete and molded cylinders for compressive strength testing during the site and structure concrete placement.  We inspected the placement of the reinforcing steel.  We inspected the masonry construction and obtained samples of the grout and masonry unit prisms for compressive strength testing. We tested the asphalt for parking areas and sampled the asphalt concrete and performed laboratory testing on the asphalt concrete
Key Personnel: Kevin Runner, Jake Huitema, Adam Sprague
Estimated Construction Cost:  $4.1 M